At INFONETICS, it just seems like we're all business. Like your company, though, we try to get out and away from bits and bytes and keyboards and the phone once in a while.
Account Specialist Jim Conlin, his wife Lynn and three daughters have been long time auto racing fans and a couple of years ago they decided to stop watching and start racing. They bought a racing go-kart, all the extra pieces and formed their own team. Jim had raced snowmobiles and sports cars years ago and used some of that prior experience to come up to speed in karting. Nevertheless, their first year was spent learning the ropes and it wasn't until this year that their team became really competitive.

Karting is a family oriented sport and it wasn't long before Jim's girls got behind the wheel and began learning proper driving techniques. They apparently have the racing bug too. Oldest daughter (and former INFONETICS employee) Dana began racing this year and sister Tracy hopes to enter a race or two before the end of the year. Julie feels no pressure to keep up with her motorhead sisters and is happy to be the team's valued videographer.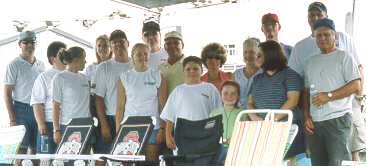 The second weekend of September found us sharing in the Conlin family hobby of karting. Circleville Raceway Park (CRP) is only a 30-45 minute ride for most of the staff and the weather cooperated completely after threats of late afternoon showers. The track is a 10 turn road course designed specifically for karting and from where the INFONETICS hospitality tent was set up, the entire .7 mile of asphalt could be observed. The Conlin SpeedSports kart reaches speeds of 55mph on CRP but the INFONETICS gang saw other classes of karts topping out near 70mph. The format has each class running two heat races and then a final so there was plenty of action out on the track to keep an eye on. Unfortunately, Dana wasn't racing that day – she was working the race to meet her club work obligation to qualify for championship points.
Jim carried the INFONETICS colors into battle well, fending off main rival Sean Wilson for half (unfortunately, the wrong half) of the first heat race and managed to lead the opening lap of the feature. In fact, his attempt to lead the second lap nearly took him and Sean out of the race and his co-workers nothing left to cheer for. Jim is quick to acknowledge Wilson Racing's good work at putting together a great package for Sean and if they weren't such nice folks he could easily despise them. As it is, Jim is happy to finish a likely second in the championship behind the deserving Sean.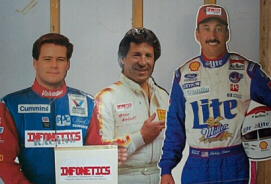 As soon as the checkered flag fell on Jim's feature, the hamburgers and hotdogs hit the grill and picnic part of the day commenced. There were several celebrity appearances at the picnic: Robby Gordon, Mario Andretti and Bobby Rahal all stopped by although each one seemed a bit quiet, stiff and one dimensional.
Bellies full, a couple brave souls took up Jim's offer to do a few hot laps. Dustin Frea, part timer at INFONETICS, was first out and had a bit of trouble getting up to speed. Just like the big race cars, the kart's racing tires take a little while to come up to operating temperature and Dusty spun out not once, but twice on his opening lap. No harm was done aside from his ego.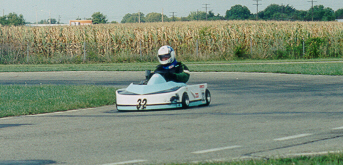 Paul Mechling, Dawn's husband faired better. A former over-the-road truck driver, he had the additional advantage of having seen Dusty's run and worked up his speed very carefully. He had a couple of wicked looking slides but managed to keep it going the right direction and before long was turning respectable lap times. Dawn's son Josh was ready and willing to take a turn but was just a year or two too young. He was happy to pose for a photo behind the wheel, helmet and race face on, just as his sister Lacie was.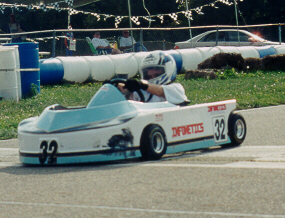 For the staff who have had to endure water cooler play-by-play accounts of Jim's race day, it was a good chance to see what, exactly, he's always going on about. And why he's always beat up and sore the Monday after a race!