Websites That Stand Out From The Crowd
In this bustling, competitive, the-future-is-now world, your website is your storefront. It should not only reflect your business, but make it as easy as possible for customers to find and connect with you.
Why Choose INFONETICS?
With INFONETICS web design, you'll get a professional, modern website that looks great and draws customers in whether they're viewing it on a computer or a cell phone.
Big or small, every INFONETICS-designed website is built from the ground up to attract and engage customers, with features and available options to take your online presence to the next level, and beyond.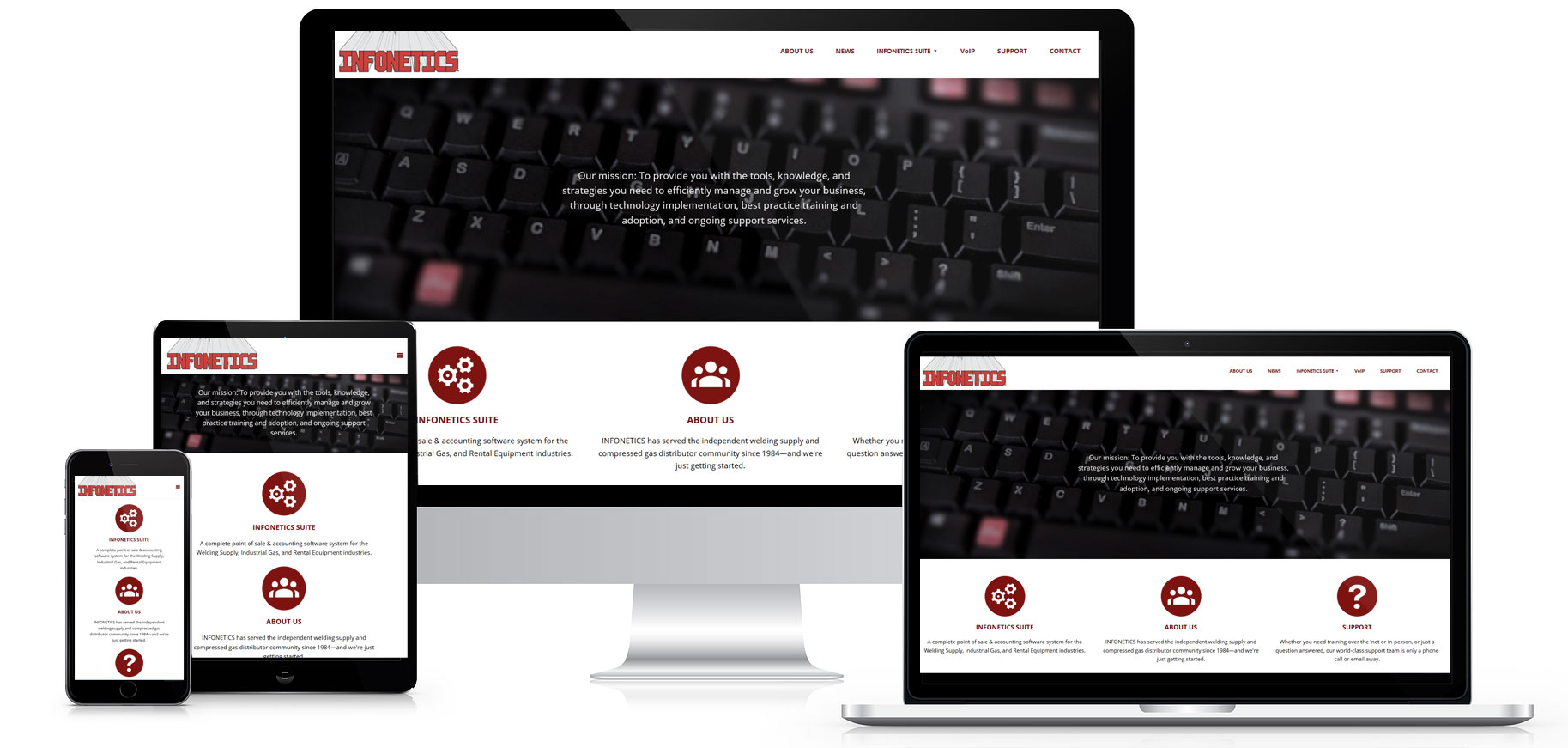 Mobile-friendly out-of-the-gate, with fully responsive designs that look good no matter the platform
Visitor demographics and site traffic and use reporting with Google Analytics
Built-in SEO (Search Engine Optimization)
Easy content updates — whether you're doing them or we are
Get the Website You Need, at a Price You Deserve
We'll work with you to design a site that meets your specific needs, exceeds your expectations, and doesn't break your budget. Along with reliable webhosting and INFONETICS's world-class support, the choice couldn't be more clear.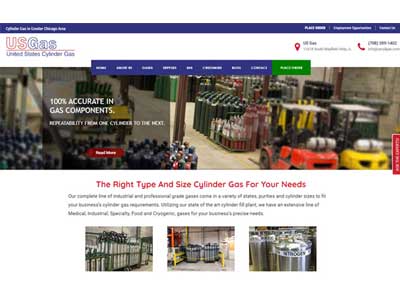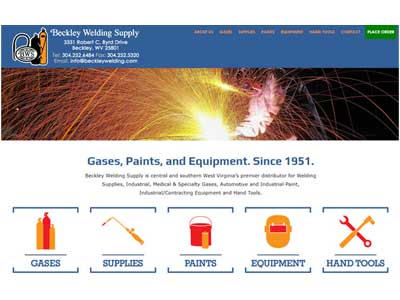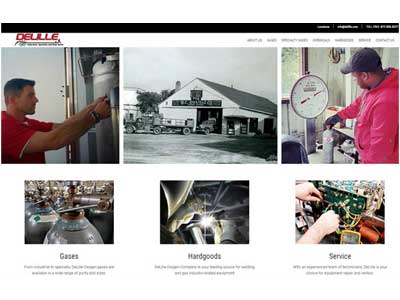 One-size-fits-all doesn't apply to websites. INFONETICS offers three standard website packages to meet the particular needs of your business, with features for businesses both big and small. If one of our standard packages doesn't exactly fit your needs, we'll work with you to create a custom package that does. All INFONETICS websites feature designs and layouts customized to compliment your brand, are hosted on reliable and fast cloud servers, and are backed by INFONETICS legendary support.
Landing Page
A simple yet effective internet front door
Show off your business in a single responsive, search-friendly page. Our landing page sites put the information your current and potential customers need all in one place, using attractive graphics and a contemporary design and layout. Users can scroll through the page to see your locations, hours, and contact information, and get a basic idea about your products and services. Start with a landing page site and add pages and content over time to meet your needs and your budget.
Basic Website
Perfect for most small businesses
Highlight your products and services with a responsive, search-friendly, and eye-catching website. Our basic sites are big enough to let you share details about your business, products, services, and locations with the world, without sacrificing your budget. Give site visitors extra ways to get in touch with you through online contact forms. Find out how your site is doing and what kind of visitors you're attracting with weekly demographic reports from Google Analytics.
Enhanced Website
Ideal for businesses with multiple products and services
Go in-depth about your business, products and services. With one of our enhanced sites, you get more pages to tell the world about your business, products, and services. Make it easy for customers to contact you with multiple contact forms. Interactive location maps let customers know where and how to find you — and even where your nearest location is. Keep an eye on your visitor demographics with real-time reporting from Google Analytics, and keep your customers up-to-date with a live news feed and blog.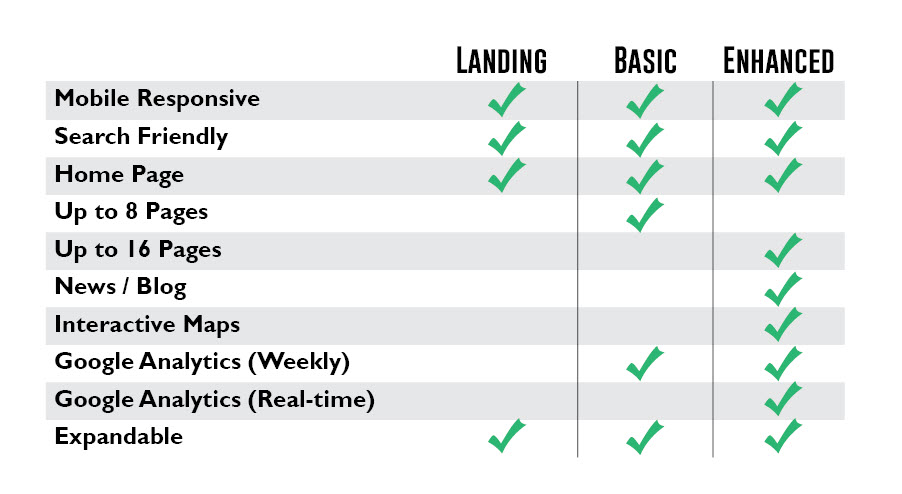 Can I see some of the sites you've done?
Are INFONETICS websites mobile-friendly?
Yes. All INFONETICS websites are designed and built from the ground up with mobile devices in mind. Our sites are all responsive (meaning they automatically resize their content to display correctly and look good no matter how big a viewer's screen is) and are designed to be just as easy to navigate and use on a cell phone as they are on a desktop PC browser.
How much input do I have in the design process?
You can have as much or as little input as you want. We'll work with you to develop the look and feel of your site, including layout and color schemes, or if you prefer, you can leave those details in the hands of our experienced site designers. Either way, your site will reflect your business and your brand.
Who writes the content for the site?
No one knows your products, services, history, and customers like you do, so there's no one better than you to develop and write content for your new site. But that doesn't necessarily mean you have to start from scratch. If you already have existing content from a previous website, we can take that content and work with you to freshen and expand it. But, if creating content isn't your thing, or you just want to leave that to us, we also offer copywriting and copyediting on an ad hoc basis. Regardless, we'll work with you throughout the process to make sure your message comes through on each page.
Who maintains my site?
INFONETICS is a full-service Web Design, Web Hosting, and Website Management company. We manage your site, making sure it is regularly patched, backed-up, and maintained, as well as provide you with our legendary support.
Who hosts our website?
INFONETICS is a full-service Web Design, Web Hosting, and Website Management company. We host your website on fast, reliable, and secure Google Cloud servers. Google Cloud servers are trusted by leading companies around the globe, including seven out of the top ten retail companies, seven out of the top ten software and internet companies, and five out of the top ten car manufacturing companies.
Okay, how much will a new website cost me?
Cost depends on a number of factors, but the primary one is size. Generally, the more pages and content your site has, the more work is involved in building it. During the initial quote process, we'll work with you to determine the size of the website that's right for your business, and your budget.