INFONETICS' INFOPad brings truly mobile computing to INFORRMS, empowering your team and streamlining your operation. More than a simple laptop or tablet, INFOPads are ruggedly durable mobile touchscreen devices, powered by Windows 10, and customized to connect with your INFONETICS INFORRMS as well as any desk PC or laptop.
Get more done in the office, point-of-sale/showroom, warehouse, and field by equipping your entire team with INFOPADs, the ideal remote and field mobile work solution.
USE IN THE FIELD
All the information and power in INFORRMS is now at the fingertips of your sales force with INFOPad. With INFOPad, your sales force has access to their INFONETICS INFORRMS system from anywhere.
At a customer location. Capture handwriting/signatures!
In their truck or car
At the office
At home
Barcode scanning for serial number tracking
No more calling back to the office to check stock, customer special pricing, or whether an order has shipped or not. INFOPads are designed to connect seamlessly to a cell phone or other hotspot, which in turn connects via the cellular data network back to your INFONETICS INFORRMS server.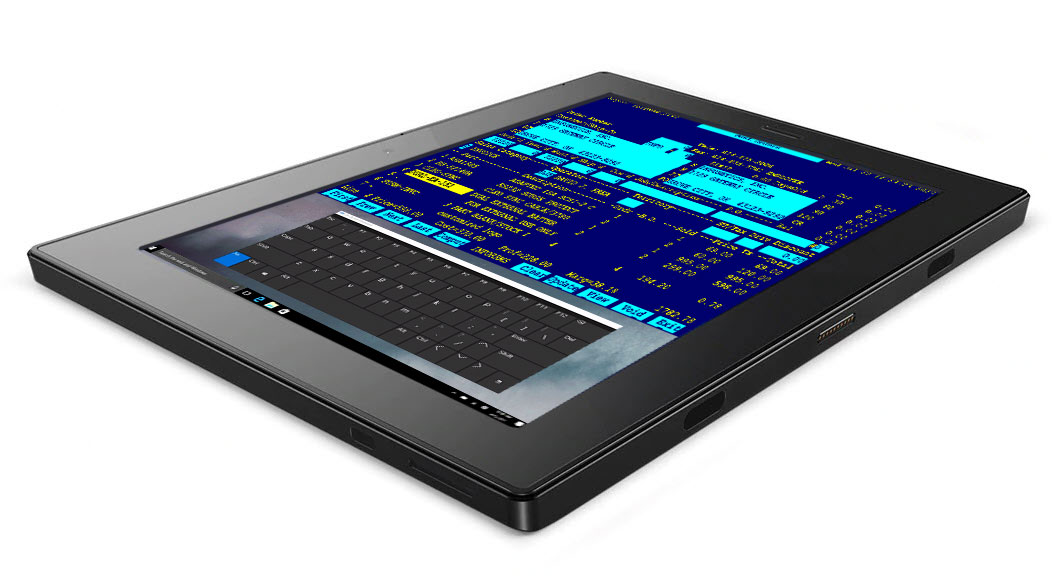 Customer Story: South Park Welding Supplies
When South Park Welding Supplies in Marysville, Michigan, went looking for a solution to help them keep track of their cylinders and get control of their rental business, they turned to INFONETICS INFORRMS's Serial Number System. After a year of use, they are more certain than ever they made the right choice.
South Park's Stephanie Darczy says they considered two different cylinder tracking systems after they made the decision to move away from their existing inaccurate and time-consuming manual tracking process a year ago. In the end they went with INFONETICS' solution thanks to its tight integration with INFONETICS INFORRMS, the software they've depended on for years.
After adopting the INFONETICS Serial Number System, their drivers and customers have more accountability. Cylinders are recorded more accurately than by hand, and now they know exactly how many cylinders are in circulation — and it's all recorded in INFORRMS in real time.
"We have much more confidence in the numbers," Stephanie says. "It's really changed the way our drivers work, and the way we track cylinders, for the better. Drivers pick up the scanning process very easily, and the hardware is very reliable."
USE IN THE OFFICE/POINT-OF-SALE/SHOWROOM
Not only is INFOPad a great mobile tool, it's a versatile machine that can be used for everyday life in the office.
At the sales counter as a point-of-sale device.

Capture handwriting/signatures!

In the showroom with a wireless scanner to take inventory or scan and add those hard to move items like welding machines to a customer order

In the warehouse or on the dock for on-the-go receiving & inventory

Barcode scanning for serial number tracking
Use INFOPad anywhere a desk-bound PC is impractical or inefficient! The possibilities are endless.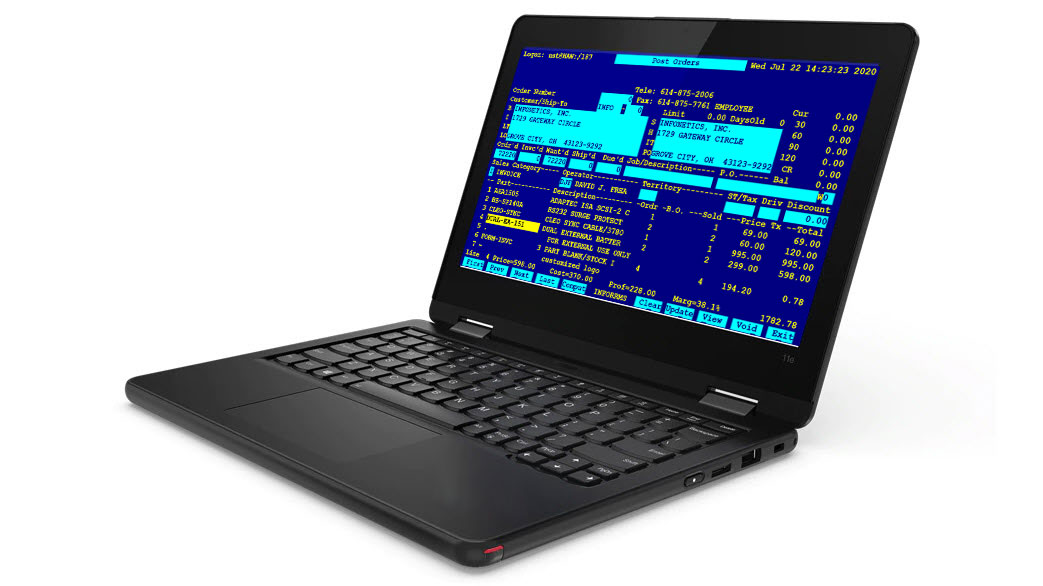 iWRITE - CAPTURE SIGNATURES AND HANDWRITING
Are you ready to go paperless? Imagine your driver…
Heading out without paperwork

Pulling up delivery tickets on the INFOPad screen

Making the changes necessary to the ticket at the point of delivery

Having the customer sign-off on the INFOPad

Faxing or emailing invoice copies directly to the customer's purchasing agent
No more deciphering a driver's rushed, handwritten changes. No more stacks of data entry at the end of the day or the month. No more filling up filing cabinets with thousands of signed shippers. Now your customer's signature is stored electronically on your system along with the signed-off ticket, and can be faxed or emailed to the customer if and when they need a copy. It couldn't be easier!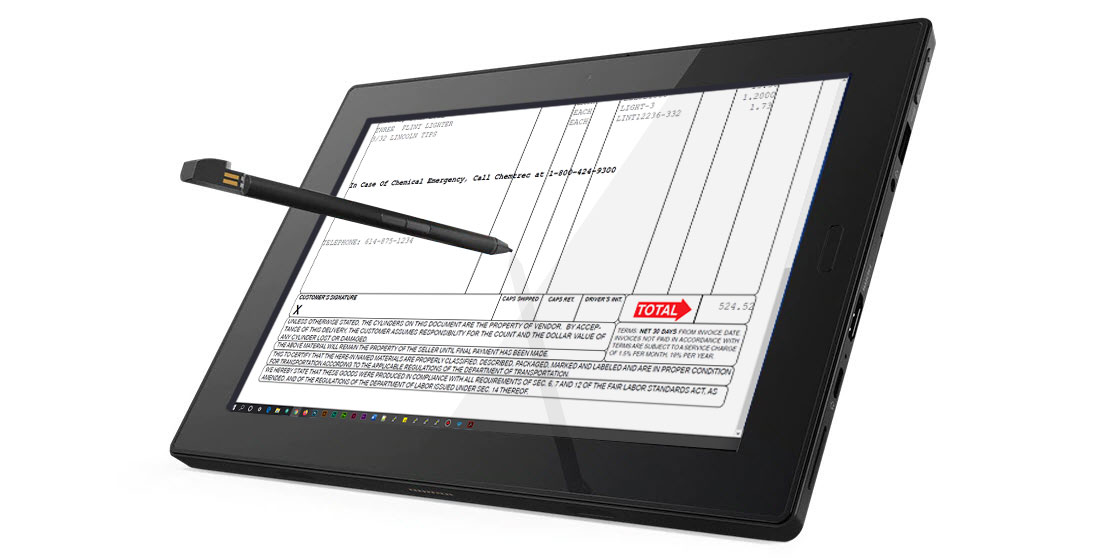 Customer Story: Robinson Welding Supply
Joe Alaniz, a driver for Robinson Welding Supply in Bakersfield, California, uses a barcode hand scanner and an INFONETICS INFOPAD laptop to easily track cylinder serial numbers every day on his route.
The scanner connects wirelessly to the lINFOPAD, and the INFOPAD to INFORRMS over the internet by way of a cellular WiFi hotspot, letting Joe quickly and accurately record transactions — no paperwork required.
"Using the handscanner and INFOPAD is more accurate than doing it on paper," Joe says. "It helps catch errors right there in the field so you don't have to fix them later, and speeds up the whole process."
TWO DIFFERENT MODELS / TWO GREAT SOLUTIONS
Equip your team with the INFOPAD that's right for them and their job.
Netbook

– Portable "butterfly" netbook configuration with attached keyboard and touch-enabled screen.

Tablet

– Highly mobile touch-interface tablet with on-screen keyboard and stylus for capturing signatures
All INFOPads come bundled with INFONETICS' INFONET-LX "touch-enhanced" terminal emulator, Windows 10 touch-screens, and iWRITE handwriting & signature capture software, for a familiar yet powerful experience that's simply not possible with Android or iPads.
CONNECTIVITY
Our INFOPads leverage the Internet connection in your cell phone to connect automatically to a WiFi hotspot in the field, or to connect wirelessly to the net over your office or home WiFi. No extra data connection required.
ADVANCED FEATURES
Rugged hardware

Windows 10 Professional

Touch-screen and Stylus-enabled interface

INFONET-LX pre-installed

Customized and pre-configured to connect to INFORRMS

High-speed WiFi Connectivity

Long-lasting rechargeable batteries

INFONETICS Legendary Support
WIRELESS BARCODE SCANNER
Couple INFOPad with a wireless barcode scanner and do things you never thought possible. Using Bluetooth® cordless connectivity, the high-resolution barcode scanner can be used to scan UPC barcode product labels or industrial gas cylinders serial number labels, reducing typing and increasing accuracy of all data entry.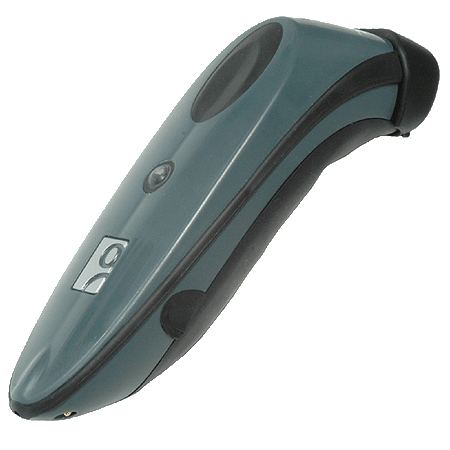 Customer Story: Piner's Welding Supply
As a driver for Piner's Welding in Napa, California, Joe Kneeland uses a handheld barcode scanner and INFOPAD laptop for serial number scanning on the road.
"It's easy to make changes in the field. If the customer changes their order during delivery, I can just update everything right there on the spot instead of having to do it back at the shop."
Joe also appreciates that both the INFOPAD and scanner can go all day without needing a recharge.
Piner's uses their INFOPADs for more than just real-time serial number tracking with INFORRMS — they also use them to take customer credit card payments in the field through Square, and Joe's even mounted an inkjet printer in his cab so he can make printouts for customers, connecting the INFOPAD to the printer by way of USB.