INFONETICS forms laser imaging system, INFOPAGE, has caught the attention of quite a few installations to date. We're able to print everything, from simple reports, to labels, invoices, rent bills and statements on Okidata's OKIPAGE page printer. It's fast, quiet, reliable and affordable. Better yet, in most cases, you don't even need to stock forms as the INFOPAGE software takes care of imaging your form right on plain paper as the document is being generated.
However, Payables/Payroll Checks have always presented an interesting challenge. Banks read the account codes encrypted in magnetic ink on the bottom of the check. Therefore, preprinted laser sheets are still needed for printing checks. Recent software enhancements now allow the rearranging of a typical dot matrix check layout to a full 8″ 1/2 x 11″ format. There are two perforated stubs, one to leave attached to the check, and the other to keep for yourself. And, they are also available in the same colors as our dot matrix continuous check forms.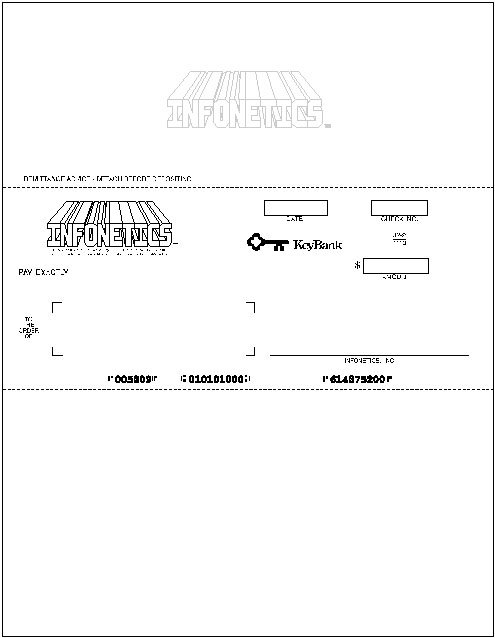 If you have an OKIPAGE printer and are interested in switching to laser checks, just let us know the next time you order them. Please note; due to the many different alignments with laser printers, we can't provide laser checks for use with any other laser printers.
For those of you using the INFOPAGE software, we now also have the ability to print Delivery Tickets/Shippers on OKIPAGE laser printers. Previously, we have continued to print these on dot matrix printers at the counter so that you could use the multi-part forms for records of signatures and because the backer, printed on the reverse of the form is required. Software enhancements we've made now permit the printer to print the forms image on one side and the backer on the other side. This will only work on duplex (front & back) printers. All INFOPAGE images can also be configured to print multiple copies if desired. This can eliminate the need for dot matrix printers altogether! If you're interested, give us a call. We'll download these enhancements to your system.