Another recent software enhancement to the Post Order/Invoices system involves the printing of detailed customer notes on the actual Packing Slip and/or Invoice. This allows delivery instructions or special notes about the customer to be automatically pulled from the Customer Master File and included on the actual printed output. It is customary for this feature to only be enabled on the "Post Orders" program so the notes will only appear on your Packing Slip/Delivery Ticket. "Post Invoices" is not usually configured with this option as they are generally inappropriate for printing on an actual invoice.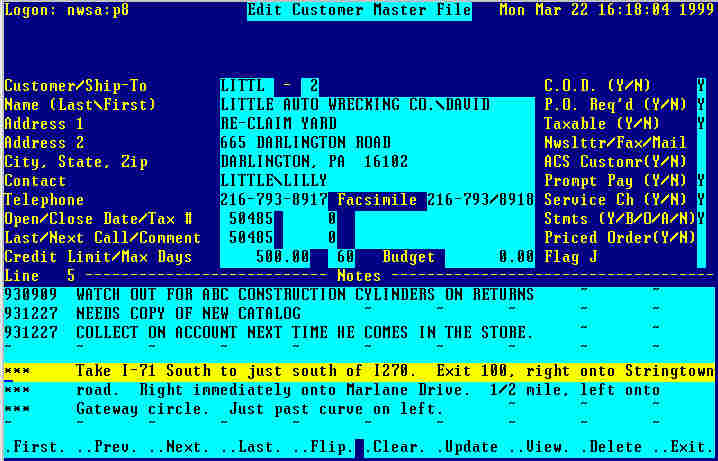 To create these special note lines, go to the "Edit Customer Master File" program and pull up one of your favorite customers. Then flip to the customer notes section at the end of the screen. For quicker access to the notes section, try hitting <UP ARROW> from the first field on the screen. Enter three asterisks as the first characters on each note line that is to appear on an order (see example above) then hit <UPDATE> to save the record. Now, each order printed for that customer will include theses special note lines printed out after the last line item. Note; you cannot edit the information on an individual invoice as this is master data associated with the customers' master record.
Please call your INFONETICS Account Specialist to have this free software enhancement downloaded to your system.